Working in EC

Early Childhood Care and Education can provide a rewarding career, and Grand Beginnings can help you connect to an early childhood program for internships and employment.
Grand Beginnings also provides financial support to cover the cost of ongoing professional development and early childhood education courses for those working in early childhood programs and family child care homes in Grand and Jackson Counties.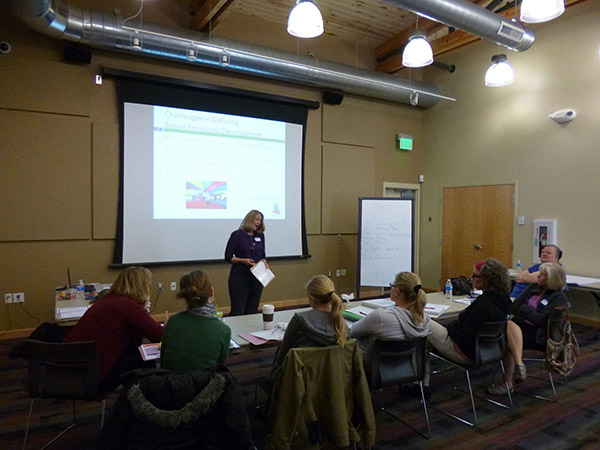 Looking for a job?

Check out local early childhood job postings.
Early childhood professionals have a lot of options for gaining more education and training.

Grand Beginnings works with the Colorado Professional Development Information System (PDIS) to connect early childhood professionals to the Colorado Early Childhood Credential and help professionals increase credential levels. To register in PDIS and access free trainings, visit ecpd.com.
Wondering what else you can do to get qualified to work in early childhood?

Check out the Child Development Associate Credential at https://www.cdacouncil.org/.
The CDA is the best first step in your career as an early childhood professional. Not only does it qualify you to be an early childhood educator according to licensing regulations, but it also provides a comprehensive process for gaining skills and tools to work with young children. Grand Beginnings can reimburse the costs associated with obtaining a CDA for qualified individuals. 
Already in PDIS or have your CDA and wondering what more you can do to support your professional development?

Grand Beginnings has funding to support early childhood professionals working in licensed centers, family child care homes, or after school programs to complete required training for licensing or to complete college-level early childhood education courses.
Early childhood coaching is another option to support your professional development and skills working with children.

Coaching can focus on the Creative Curriculum and TSG implementation, the Pyramid Model, Incredible Years Dinosaur School, Enhancing Quality for Infants and Toddlers, the Environmental Rating Scale tools, or a combination of everything. You and your coach will work together to determine what is best for you and your classroom or program. Coaching is all about having a partner to work through implementation of all the great things you know how to do with young children.