Board of Directors

Board of Directors
Grand Beginnings believes in building strong partnerships with community members in order to achieve our mission of kindergarten readiness for all children so that each child can reach his/her maximum potential in school and life.  We appreciate those who are dedicated to this shared mission and recognize the valuable contribution of those who volunteer with our organization
Meetings
Our Board of Directors typically meet on the fourth Tuesday of every month at the East Grand School District Office Board Room, 299 County Road 611, Granby, CO 80446 from 8:15-10:15 am.  We welcome participation from community members who are interested in learning more about our organization and promoting school readiness  and healthy development for all children in Grand and Jackson Counties. Please contact our director for copies of meeting minutes/agendas or to confirm our meeting date, time, and place if interested.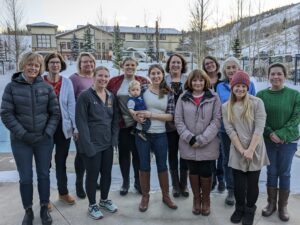 Governance
Grand Beginnings operates as a 501c3 governed by a board of directors committed to transparency. To learn more about our governance structure, organizational operation, and fiscal management please refer to the following documents:
ASHLEY BOBO
President
Hi All! My name is Ashley Bobo. I have lived in Grand County since 2005 and have worked at Grand Kids Learning Center in Fraser for the same length of time.  My degree is in Elementary Education but when I started as the pre-kindergarten teacher at Grand Kids, I fell in love with early childhood and have happily been serving that calling since as a preschool teacher, infant supervisor, and since 2010 as the Executive Director. In my spare time, (wait, does any mom have spare time?) I enjoy as many outdoor activities as possible with my husband, two children, and our crazy dog.  You also have a good chance of running into me at our local ice rink as I not only serve as the Fraser Valley Hockey Association's president but my son plays goalie for one of our local youth teams. Grand County is amazing for so many reasons and I am honored to help these various non-profits continue to serve and better our community.
KIM JENSEN
Treasurer
I have spent my career in finance, using my University of Oregon degree working for both public and private entities. Presently I manage the finances for two local businesses, Mountain Top Builders and The Warm Store. After more than 20 years in Grand County, raising three kids in the preschools and public school system, I am thrilled to support Grand Beginnings in the treasurer role. Outside of work I love to ski, run, and hike, often with my husband, kids and pup.
SHANNON ABRAM
Board Member

Grand County Native, West Grand Alumni, I have been employed with the Grand County Department of Human Services since 2013 and a member of the Grand Beginnings Board of Directors for just about as long! My husband and I have spent the last two years building and moving into our forever home outside of Parshall. When I'm not at the office, I like to spend time with my two fur babies and family. I also enjoy traveling, being outside, reading and pursuing my creative outlets – particularly scrapbooking. I have truly enjoyed participating and watching Grand Beginnings grow, seeing the impact they have had on our community and I can't see where the program goes next!
JESSICA DRIVER
Board Member
My name is Jessica Driver, and I am a former early childhood teacher and director in Grand County. I joined the Grand Beginnings board in the fall of 2021 to further pursue my passion in support of Early Childhood Education. I am originally from Louisville, KY and my husband and I moved to Colorado in January 2009.  We love living in the mountains and you will mostly find us enjoying something outdoors with our 2 daughters and active border collie. I graduated from Western Kentucky University with a Bachelor of Science degree in Business Marketing, and shortly after moved to CO. I started working at a child care center in Fraser and fell in love with my job and teaching in the early education field. I decided to pursue my Director's Certification for Early Childhood Education in Spring 2015 and founded a new child care center in Granby, Little Sprouts Learning Center. I was the executive director there for 7 years and continued to see the struggles of early educators. I joined the team at Early Milestones Colorado, a nonprofit organization that advances success for young children by accelerating innovation, the use of best practices, and systemic change, in September 2022 as a project manager.
BUNNY POTTS
Board Member
Grand Beginnings is a wonderful organization, and I am pleased to be a member of its board. I was an educator for 35 years in Connecticut. I taught Pre-school, Kindergarten, second grade, third grade a fifth grade before becoming an elementary principal. After I retired, I worked as a parent coach and life coach. I am excited to continue working with talented people who care deeply about children, families and education.
WENDY STEFANSKI
Board Member
My name is Wendy Stefanski and I am the Director of the Early Education Center at Winter Park Resort. I have been the Director for 10 years and with Winter Park for 14 years. I am married to Mark, have sons, Matt and Mike, and daughter Kelly. I like to cook, cross country ski, read, and hang out with my family. I enjoy being on the Grand Beginnings Board as over the years we have made a positive impact on families and child care professionals in Grand County.
MELISSA MCNERTNY
Board Member
STACY STARR
Board Member
Stacy joined Mountain Family Center in August of 2022 as Assistant Director and joined Grand Beginnings' Board shortly thereafter. Stacy has over 13 years of supporting the Grand County nonprofit community. She also currently serves on the Open Lands Rivers and Trails Advisory Council, the Destination Granby Board of Directors, and the Middle Park High School CTE Business Advisory Council. She previously worked for over 13 years as a Grants Manager with the nonprofit The Grand Foundation. Originally from Montana, Stacy moved to Grand County in 2009 with her husband and son. She has a passion for the outdoors and enjoys spending her spare time with friends and family rafting, hiking, skiing, and backpacking. She also loves creating art, including weaving and sewing.